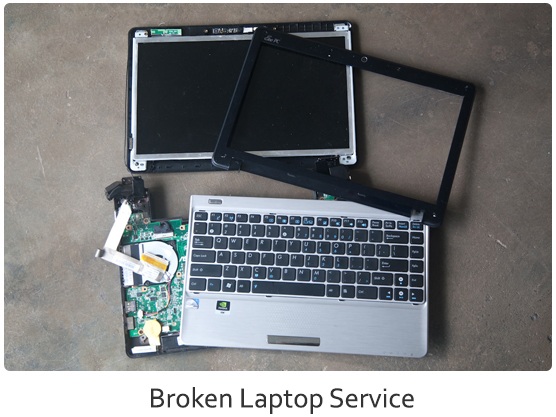 Broken Laptop Service :If you've dropped, smashed, cracked your laptop, We offer affordable prices to service broken cracked laptops repair or replacement service in Madurai. Our Professional laptop service center in Madurai technicians have extensive experience in fixing broken laptops, rework and repairing laptop faults. we fix Replacement LCD and LED screens, keypads, hinges for cracked and broken laptop for all major brand laptops such as Dell, Hp, Lenovo, Acer, Toshiba, Sony and other models.
Broken Laptop Panel Reworking:
If in case your laptop damaged don't worry about it, any kind of damage like plastic panel fully broken or hinges(metal moving part in laptop)broken can be serviced here.if you feel your laptop look like very old one, don't worry about it,we do the best painting work in your laptop. your laptop appearance will change its look like new one. And if you need to change the color of your laptop into your 's favorite color in your laptop we will do that.
Broken Laptop LCD Reworking:
Our professionals are highly qualified to assist customers by handling laptop LCD repair work to ensure minimum down time. We are specialists in fixing all sorts of problems with LCD's failures at reasonable charges. Our company offers below mentioned LCD reworking services:
Liquid spilled onto LCD,we can also bring back new working conditions
LCD Broken conditions always demand only replacements
Dim or dark display or black LCD and tinted LCD red color
Intermittent and completely dead component failures
Damage to the front of the display or dim LCD display
Missing individual lines on a display driver
Laptop Screen Replacement Service:
Repair your damaged Dell laptop screen with the best price, Mostly we repair your Dell laptop screen with the existing one, in case of dead screen, we suggest you for the new one. Also we can replace your laptop screen on the same day of service. If the laptop screen is cracked, or it is broken, then no use of repairing the damged laptop screen, you should replace with the new laptop screen. Replacing new laptop screen is based on how much the screen got damaged.
Laptop Keypad Replacement Service:
Our highly skilled engineers are capable for repairing damaged laptop keypad, Almost we try to repair your laptop keypad with the existing keys, but in the worst case, we suggest you for the new laptop keypad. We have laptop keypad for all the models. So we can raplace your old laptop keypad with the new laptop keypad within the same day of service.
For further information about our specialist broken laptop service or rework call us, we can arrange professional pick up services for those who cannot bring their broken / crashed/ damaged laptop to our repair center. Call Laptop Service Madurai, a specialist broken laptop repair at +91 9941054646, +91 9941154646.